Ease of Access
As the name suggests, Floor Sockets are electrical outlets that are installed in to the floor, and installing them instead of standard Wall Sockets can make electrical outlets easier to access for anyone needing to use them, especially in commercial settings. Many office spaces benefit from Floor Sockets as they can keep their computers, phones and any other electronic equipment plugged in within close proximity to their desks without having to share wall outlets with other colleagues.
The same can be said for industrial settings, with various tools and machinery needing to be plugged in at several points in such a large space, Floor Sockets can be an ideal solution for this.
Safety
One of the main reasons to consider Floor Sockets is the added safety benefits. Installing Floor Sockets eliminates the need for leads and cords trailing across the floor, potentially contributing the common issue of slips, trips and falls. The almost complete flat design of most Floor Sockets means that the socket itself when not in use is not considered a trip hazard.
As well as this, many Floor Sockets are equipped with protective covers to not only prevent the sockets themselves from being damaged when not in use, they can keep users safe from electric shocks that could possibly occur from issues elsewhere in the circuit.
Installing multiple Floor Sockets where needed also eliminates the risk of overloading extension leads, to learn more about extension lead safety, check out our previous article here.
Aesthetic Appeal
The more subtle option of Floor Sockets not only creates a more organised cabling system from a practical and safety standpoint, but from an aesthetic one too. If chaotic cabling is getting in the way of your vision for a clean and professional looking office space for example, Floor Sockets could be the best way to go.
To further maximise on the customisable aspect of your project, just like our Wall Sockets, our Floor Sockets are available in a variety of finishes perfect for any space, including Antique Brass and Satin Chrome.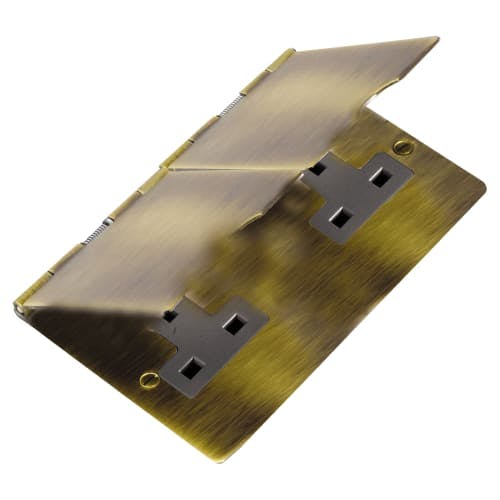 Ease Of Installation
On top of the multiple up-sides that come with choosing Wall Sockets, they are incredibly easy to install. For certain types of flooring, it is as simple as creating a hole in the floor and wiring up the socket just like a conventional Wall Socket.
Wall Sockets are a great way to streamline your socket setup, find out more about our full range of Floor Sockets & Boxes here.