What is underfloor heating?
Underfloor heating consists of a series of pipes or wires installed into the floor. This effectively turns the entire floor into one big radiator, heating the room all over. 
Because of the mass underfloor heating covers, it doesn't need to run as high as traditional radiators. In fact, by just increasing the temperature of the room by two degrees, it can achieve comfortable warmth levels. 
The operating temperature of underfloor heating sits at around 40°C, lower than a radiator's 65°C. This puts less strain on a boiler, making for a more energy efficient environment.
What type of underfloor heating is best?
There are two different types of underfloor heating system, each one coming with its own distinctive benefits. We'll talk you through them both so you can decide which one is best for your job. 
Electric underfloor heating - the dry system 
Electric underfloor heating is installed directly underneath a floor covering. It's perfect for single rooms where the sub-level of the flooring is already set. Unlike wet systems, it doesn't need to be set into the concrete beneath the flooring. Instead you lay the wire or matting on top of the concrete, beneath the flooring underlay. 
It's only around 3mm thick, so causes little disruption to the existing room. 
All electric underfloor heating must be installed and approved by a qualified electrician to comply with building regulations. You should ensure circuits are easily accessible in case anything needs to be repaired - your client won't be happy if they have to pull the full floor up. 
Electric underfloor heating systems can be more expensive to run than wet systems, and aren't recommended for use over large areas. However, in single rooms they can make a massive impact to both the look and running costs of a property. 
See our electric underfloor heating options
Water-based underfloor heating - the wet system 
A water-based underfloor heating system is generally used in new-builds or extensions. It involves a series of pipes connected to the boiler, which circulate warm water throughout the property. Unlike electric underfloor heating, it's impossible to install without digging up the existing concrete floor, making it best suited to new floor construction. 
Wet systems take longer to warm up than electric ones, but they'll also take longer to cool down. This makes them better for whole house installations, where the temperature can remain consistent throughout. 
You'll need a heating engineer to install this kind of underfloor heating system.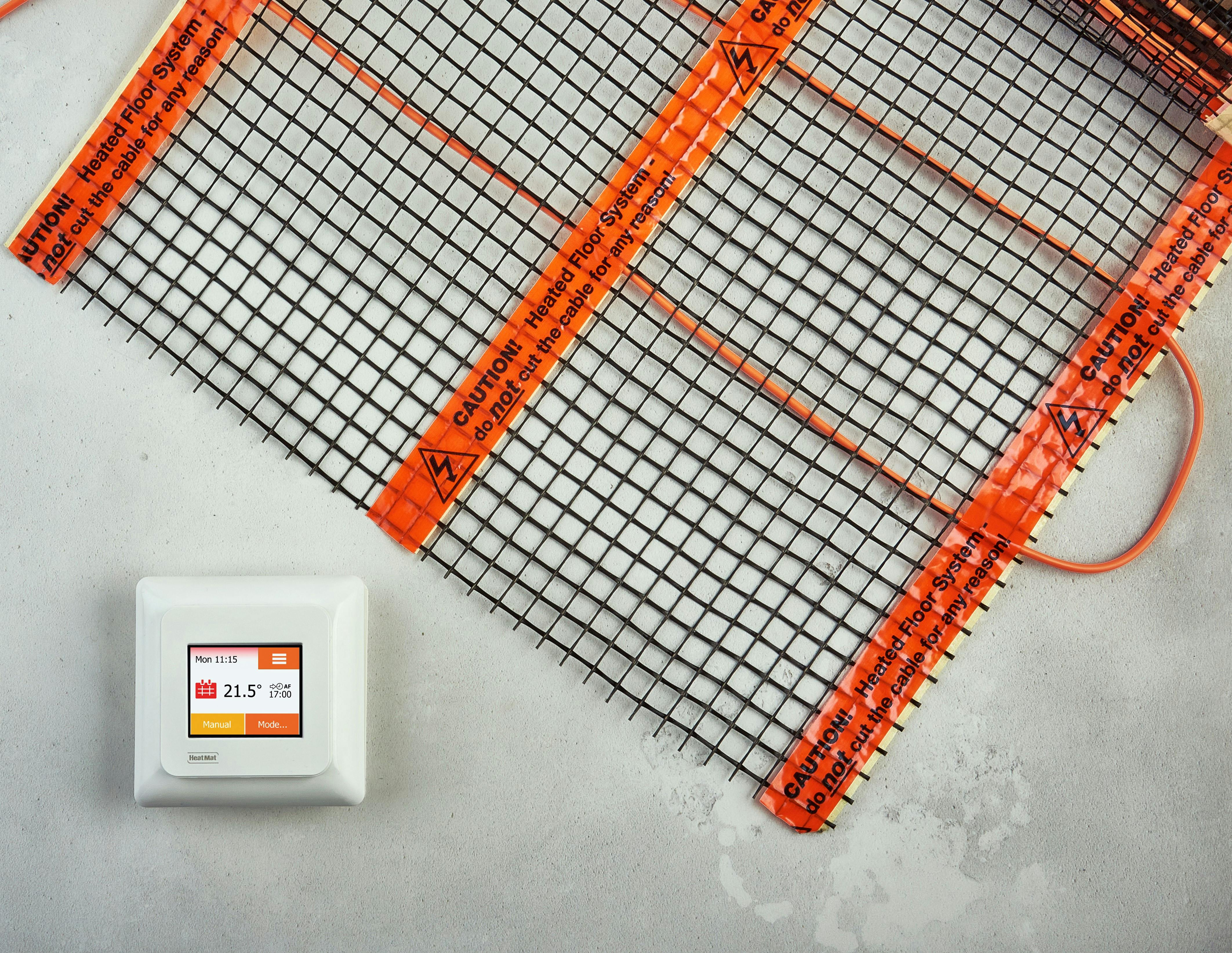 Can you install underfloor heating into an existing home? 
It is possible to install underfloor heating into an old property. This process is called retrofitting, and how easy it is depends on the kind of heating system you want to install. 
Electric underfloor heating will require you to remove the existing top layer of flooring, whether that's carpet, tiles or laminate, and add the wires or matting beneath it. You may also need to lay it on insulation boards to prevent the heat escaping downwards. 
Depending on the kind of floor you're removing, it may be impossible to take it up without damaging it. That makes electric underfloor heating an ideal option for someone looking to add new flooring.
You can also install water-based underfloor heating into an old property, but not without causing a lot of disruption. This kind of heating is set within the concrete beneath the top floor level, so you'll need to dig old concrete up and pour a new layer down when you're finished. 
This can be a very messy job, so it's only really advised on new builds or extensions. 
How much does underfloor heating cost?
The cost of underfloor heating varies on the type of system you want to install and the size of the space you want to heat. 
When it comes to electric underfloor heating, prices start from around £60 per m2. Our 160W underfloor heating mat is only £67 per 1.5m2, making it an affordable option for heating a smaller room.
Water-based underfloor heating can cost up into the thousands, with extra investment required for the new concrete flooring and any repairs that might be required if retrofitted. 
How thick a screed do you need with an underfloor heating system?
If you're installing a water-based underfloor heating system, you'll need to cover the pipes with 65mm of hand-mixed screed, or 50mm of a liquid screed. 
With electric systems, you don't always need a screed. If tiling over the top of the wires, you can use tile adhesive to create a flat surface to work on, or embed the wires in a mesh to prevent them popping up. 
Whatever you do, remember to spread the screed with a plastic spreader to avoid damaging your new wires. 
Will underfloor heating raise your existing floor profile?
Our electric underfloor heating systems are only 3mm thick, so you should be able to lay them beneath the existing floor without raising its profile. 
Wet underfloor systems may raise the floor profile by a few inches, unless you're willing to cause more disruption by digging deeper into the concrete below. 
What flooring is compatible with underfloor heating?
Underfloor heating can be used with almost any kind of flooring, there are just a few things to consider with each. 
Tiles
Tile and stone flooring is perfect for underfloor heating, as it's such a good conductor of heat. Expect toasty bathrooms and kitchens. Anything like ceramic, stone, marble, flagstone or polished concrete is perfect. 
Remember to use a two-part flexible adhesive if using tiles to prevent them cracking as the heating warms up. 
Wood flooring
Different kinds of wood have different thermal properties, making some more suited to underfloor heating than others. The denser and thinner the wood is, the better they'll conduct heat. 
Engineered timber is the perfect choice. It performs well with changing temperatures and changing levels of moisture, without affecting its appearance. 
Soft wood is also a good option for the same reasons, but you must pay close attention to the thickness of the floorboards. Too thick and they'll act as insulation, keeping all the heat from getting out and warming up the property. 
Solid hardwood flooring is the least suitable for use with underfloor heating. The changes in temperature and humidity could result in gapping, cupping or crowning, potentially ruining the floor's appearance. You should always check with the manufacturer before installing, as further precautions may be required.
Laminate flooring
Most laminates are suitable for underfloor heating. They're generally soft and pliable, meaning they can cope with the changes in temperature and humidity. 
Vinyl flooring
Vinyl flooring can be safely used with underfloor heating. However it heats up and cools down very quickly, and is restricted to temperatures of around 27°C. It's not recommended in high heat loss areas such as conservatories, as it won't stay warm for long. 
Rubber flooring
Rubber flooring is a great choice for underfloor heating, as it heats up quickly and can maintain a consistent temperature. 
Carpet flooring
Carpet is good for underfloor heating, just as long as it's not too thick. The total tog of all materials, including the carpet's underlay, must not exceed 2.5 togs. If it does, it will limit the heat output. 
Controlling an underfloor heating system 
Underfloor heating systems are controlled using a thermostat, letting you accurately set the temperature of a property with just a few taps of your finger. Because of how underfloor heating warms up an entire floor, it can maintain heat for longer, meaning you can set consistent temperatures that won't need regularly changing. 
The recommended temperature for a living space is 21°C, with it slightly lower at 18°C for bedrooms. 
To ensure an accurate thermostat reading, you should install it in a room that receives a good amount of airflow. That way they can record a true reading of the temperature in the property. 
Explore our underfloor heating range 
We offer a range of electric underfloor heating options ideal for any kind of property installation. Everything from wires to mats, controls and cables is available, letting you leave your client cosier than ever. 
Order by 4pm to guarantee next working day delivery.