Gang switches allow you to control multiple light circuits from one panel. They're a vital piece of kit in most commercial properties, while domestic clients find use for them in larger rooms with various lights. 
Our guide will tell you all you need to know about finding the right gang switch for your job, from the different types available through to the best places to install them. 
Gang switches and gang switch panels
Every switch is a gang switch, but some control more appliances than others. To put it simply, a gang is a circuit, and one circuit will control one appliance. A 1 gang switch controls one appliance, and can be found in nearly every building in the country. A 2 gang switch will control two appliances, a 3 gang switch three appliances, and… well, you get the picture. 
One gang switch panel can control up to four gangs, and these are more often found in commercial settings such as offices or factories. You may occasionally even see multiple 4 gang switch panels in a row, particularly in large open plan offices. 
We offer the widest range and breadth of major brands, including our ever-popular Hamilton range.
2 gang switch and dimmer
Dimmer lights can be operated via gang switch panels too, or you can even have a mix of dimmer switch and rocker switch. The choice is yours. This can give your client full control over the lighting customisation, or allow them to operate both a light via dimmer and a separate appliance via rocker.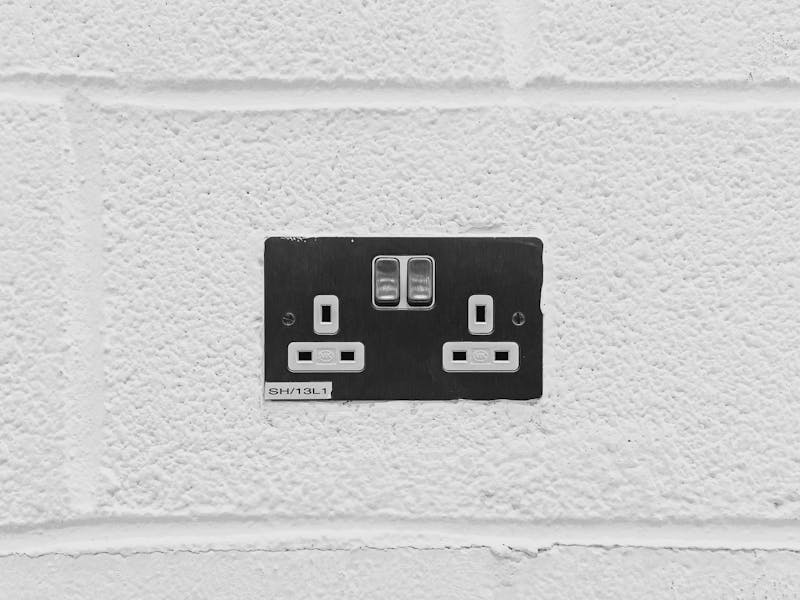 Gang switch sockets
A gang switch socket can power multiple items plugged into it. For example, a 1 gang switch socket is just like a regular plug socket, with a switch allowing you to turn it on and off. A 2 gang switch socket will allow you to plug two things in and control them independently. Office spaces might use 3 gang switch sockets to power multiple computers, or a separate monitor and phone. 
But what is a gang socket? As you might have guessed, it's the same thing without the switch. This is useful for things that are on all the time, such as ovens and fridges or central heating systems. 
You can even get gang sockets with USB connections, while our decorative range is designed to suit any style. 
Where should electrical sockets be placed?
Switches and sockets for lighting and other electrical equipment should be installed anywhere between 450mm and 1200mm above the finished floor surface. 
Consumer unit switches should be between 1350mm and 1450mm above the finished floor surface. 
At this height, all switches should be accessible to people of all levels of physical ability, while still being out of reach of young children. 
Why do you need a gang switch box?
If you're installing a new gang switch panel in an older property, you might find the existing switch box isn't built to support the new kind of panel. A gang switch box is designed to hold anything from a 1 gang switch through to a 4 gang switch, allowing you to safely install the new switches.