DIY projects have kept almost half of the UK's households occupied during lockdown, so the appetite and motivation for home improvements is high on the agenda for many. And this trend is set to continue, with 44% of households planning to turn their hand to home improvements by the end of the year.
Among the purchases and improvements for the home, internet enabled devices continue to be a popular item to transform the way the home operates. Findings from our recent customer research has revealed smart home products ranked high on the list of most desirable home purchases in Britain. However, smart technology is still relatively new, so some homeowners may find it difficult to fully understand how to optimise the potential for their homes. Fortunately, we've partnered up with smart home technology developer, Lightwave, to demonstrate the simplicity of smart.
What is a smart home?
A home becomes a smart home when devices operate intelligently and autonomously - heating, lighting, security and power can all be controlled through a central system. However, this can seem like a complex and confusing process.
Look for modular smart systems that can grow with your needs over time, with the potential to add more devices. As a result, homeowners can continually build upon and personalise the system by installing further solutions, such as smart thermostats, smart sockets and smart relays.
For example, all of Lightwave's solutions can be controlled through its own smart hub: the Link Plus. This connects to the Lightwave App, to activate and adjust your home automation system using your smartphone or tablet, room by room. As long as your mobile device has an internet connection, you can control up to 80 heating and monitoring devices and up to 256 lighting and power devices around your home from anywhere in the world.
Why set up a smart home?
Quite simply, creating a connected, smart enabled home makes life easier with the ability to streamline and your routines and tasks. Everyday home appliances and products such as thermostats, lighting, music speakers, security cameras, even fridge-freezers and showers can be connected to the internet and remotely controlled with a mobile device or voice activated smart speaker.  
There are distinct advantages to implementing smart technology in the home – and each application will bring its own benefits. For example, a smart security camera will send an alert to the homeowner's device if the camera has detected movement. This not only provides peace of mind while the property is vacant, it also acts as a deterrent to would-be-intruders and enables the homeowner to take swift action with the police if necessary. Lighting can be controlled at the touch of a button – even when the property is unoccupied, acting as further security measure. Furthermore, lighting and thermostats can be controlled ad-hoc, or pre-set to schedules that suit the homeowner's routine, helping to monitor and streamline energy usage and increase efficiency.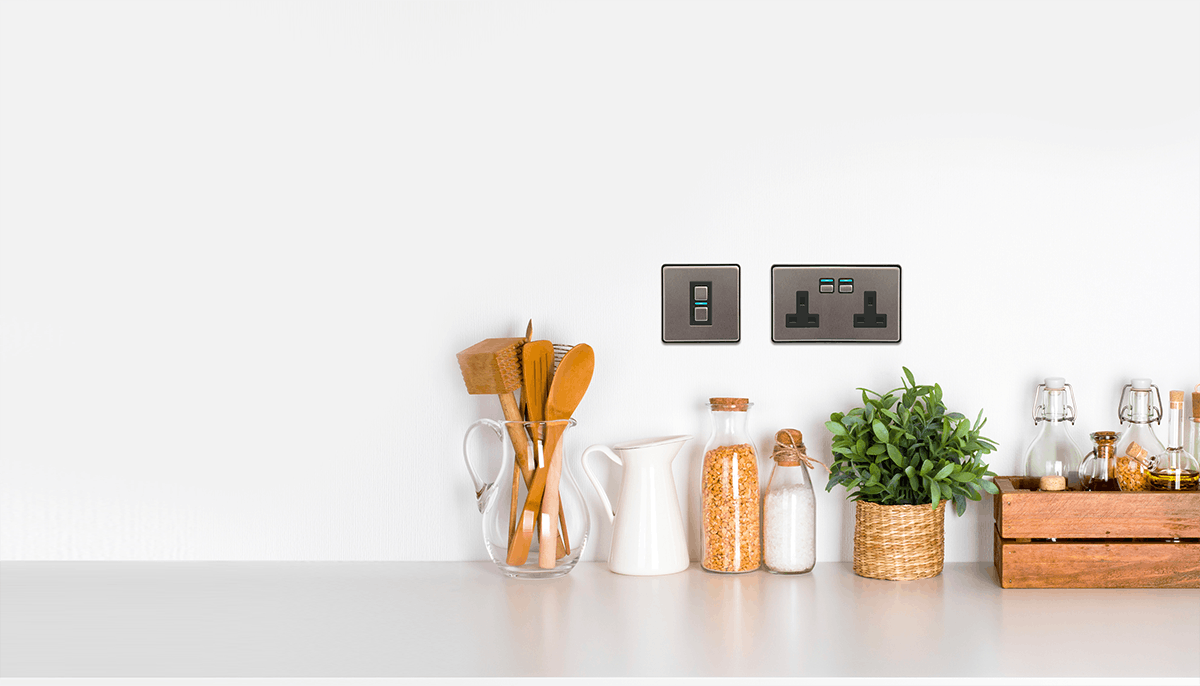 Starting your smart home journey
An ideal place to start your journey is by installing a smart lighting system. Unlike traditional lighting products, smart lighting systems offer users greater functionality and can be managed remotely for better control. This can generate energy savings and more efficient lighting usage, as well as help to enhance security within properties. Homeowners can program smart lighting systems to turn on and off remotely, creating the impression that a property is occupied when it isn't. By mimicking activity inside the home, homeowners can deter potential intruders outside of it, offering a significant upgrade on the traditional 'leave a light on' approach.
The LightwaveRF Smart Series Lighting and Power Generation 2 Starter Kit, provides everything you need to begin to control your lighting remotely. Designed with ease-of-use and installation in mind, the system links to the main Link hub and can function using the same wiring as the previously installed switches and sockets. What's more, the dimmer system features soft-start illumination, two-way switching and provides multi-way wireless communication with other dimmers from the Lightwave range.
For further comfort and enjoyment, the Scene Control feature provides a very convenient way to set the level of all of your room lights at once and save this as a favourite 'scene' to recall at any time. At the touch of a button, using the App, you can dim lights and lamps to your exact preference depending on the mood and atmosphere required, such as watching a movie or entertaining guests.
A further consideration when creating a connected home is compatibility with other leading smart home products. Lightwave solutions integrate seamlessly with other leading systems, like Siri, Alexa and Google Home and Google Assistant. As such, the ability to control lighting, turn off appliances, set temperatures, monitor energy usage, and set 'automations' to turn devices on or off automatically can simply be actioned using a smartphone, or even by voice command.
At ElectricalDirect, we supply a comprehensive collection of smart solutions. To get started on your connected home, click here to browse our Lightwave range and SAVE 15% off this week but hurry, offer ends 27/09/20.