TV isn't what it used to be. Gone are the days of having four main channels and a fifth one if you wriggled the aerial - thanks to streaming services, a world of entertainment is now at our fingertips.
But while Netflix and Amazon Prime might dominate the UK market, across the globe less common players are taking top spot. Settle in and get ready to binge on all we know. 
World domination and chill: Netflix is the number one streaming service in the world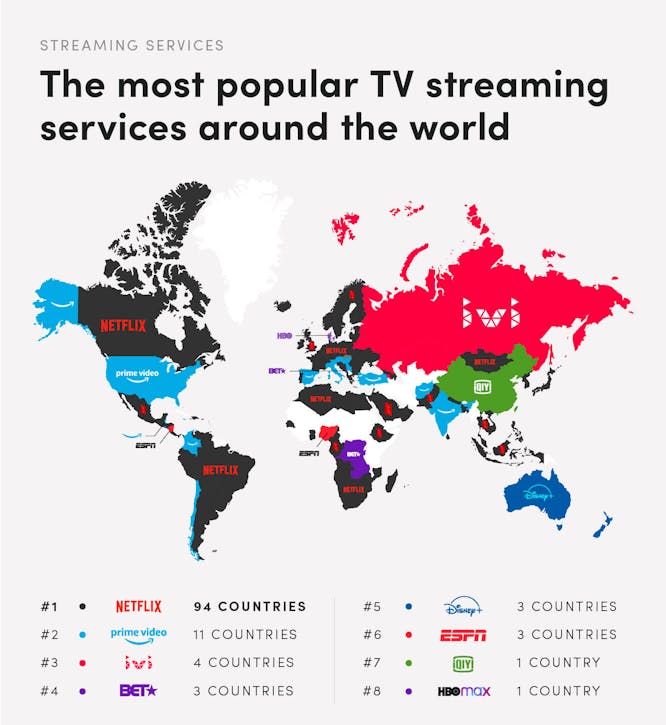 Unsurprisingly, the world's original streaming service comes out as number one. As the most popular streaming option in 94 countries, Netflix easily beats competition from the other big names in the UK. Amazon Prime is only number one in 11 countries, while the relatively new Disney Plus only takes the title in three. 
Netflix has been going since 1997. Their early service let you rent and borrow DVDs through the mail, but they've since gone on to become an online streaming giant earning a huge $1.2 billion every year. 
Blockbuster (remember them?) rejected the chance to buy Netflix back in 2000 when the idea of streaming movies was still just a pipe dream, a move we're sure they regret looking back. The two businesses have gone in fairly different directions since then. Blockbuster and chill, anyone?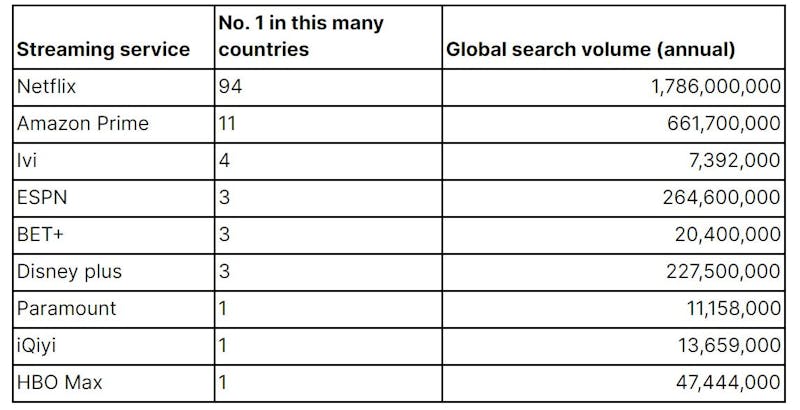 ASIA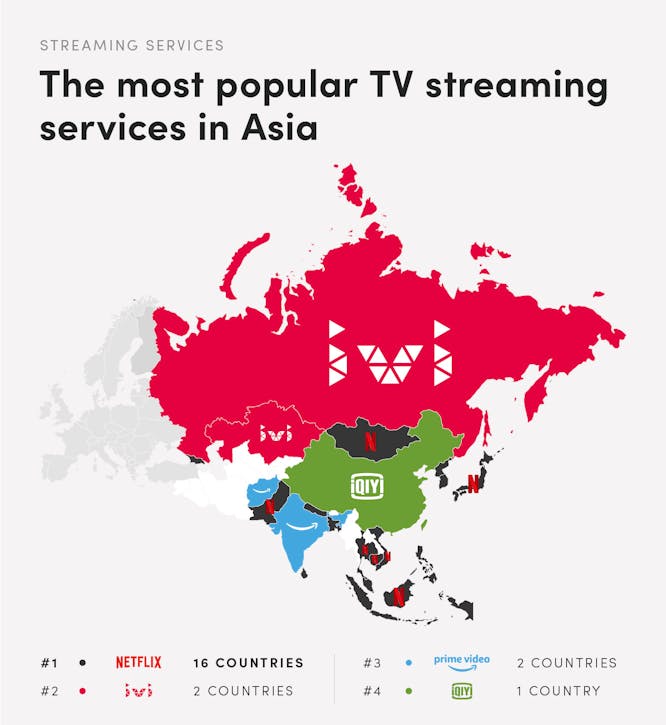 The countries where Netflix is a no-no
In some countries, streaming options are much more limited. China, for example, has strict rules in place that prevent the likes of Facebook and Twitter from being used. Those rules extend to Netflix, Prime and Disney Plus, with only government-approved services such as iQiyi and Youku on offer. 
Russia imposes similar restrictions, meaning people there get their fiction fix from a service called Ivi, while in African nations such as the Republic of Congo, Zambia and Montenegro, Bet+ is the streamer of choice. 
EUROPE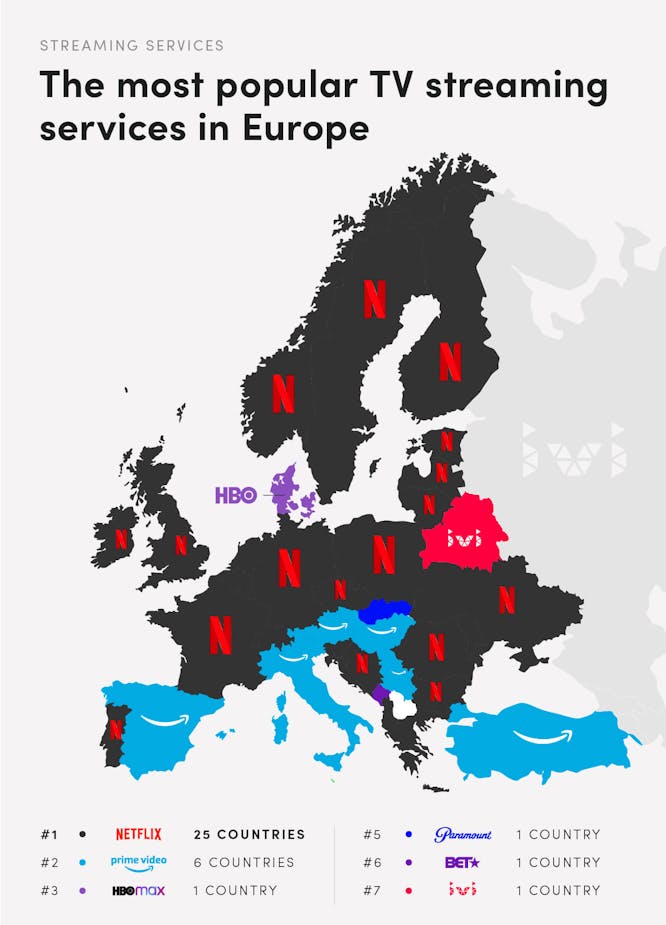 Netflix, Prime and Disney are the UK's top three
Netflix's global domination extends to the UK, with five million searches for its services every month. That's a whole lot of boxsets. In second place is Amazon Prime with 274,000 searches, making them almost half as popular as their main rival. Completing the top three is Disney Plus, who shot to success during the first wave of national lockdowns. Their mix of childhood classics and modern blockbusters sees them rack up a monthly total of 150,000 searches. 
Lower down the list we find the likes of BBC iPlayer (1m searches) and All 4 (450,000 searches), while Britbox - the national TV collaboration - only manages 301,000 searches. 
With so much streaming choice, all you need is a good cable connection and you'll never need to leave the house again.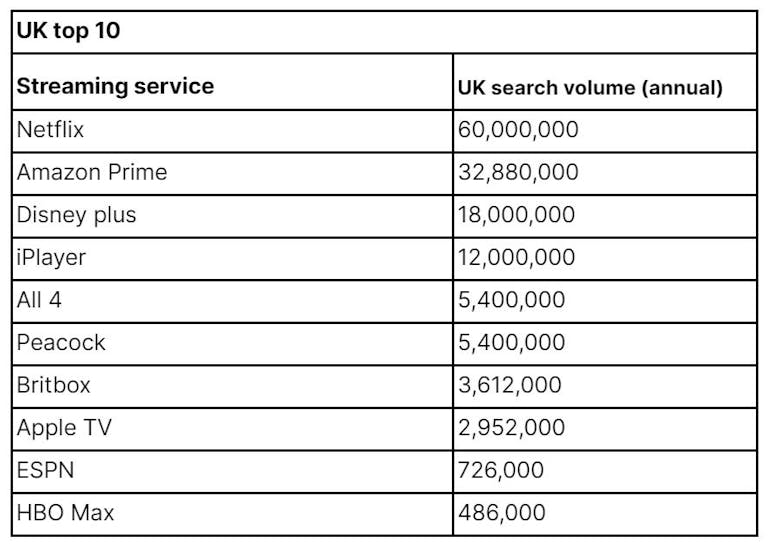 Amazon is the Prime streaming service in Spain
Unlike the majority of Europe that prefers Netflix, Amazon Prime video was the top streaming service in Spain with the monthly search volume being 1.83m.
It was also the number one choice for Turkey and Italy too.
HBO Max dominates in Denmark
Another European country bucking the Netflix trend is Denmark, the residents of which seem to prefer the offerings of HBO Max. The service receives 201k monthly searches from Danish residents.
USA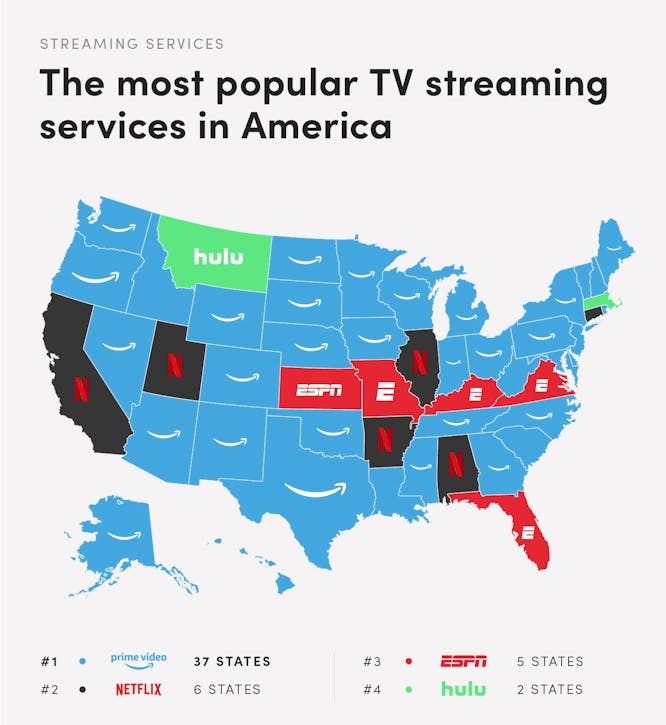 Amazon Prime takes USA title
Things look much better for Amazon over in America. With a huge 24.9 million monthly searches in the States, Prime is in poll position by some way. A few million behind, Netflix has to settle for second with 20.4 million searches, while it's ESPN who complete the top three. The sports specialist sees 16.6 million searches every month, with drama of a different kind seeing fans flock in their droves.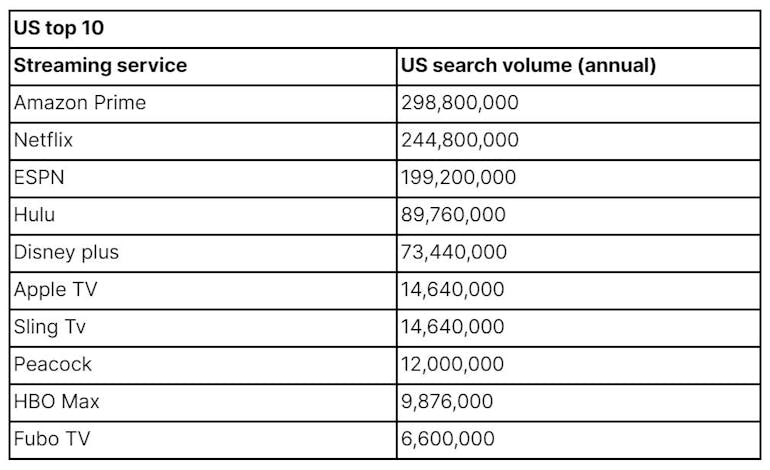 Take the drama out of cable installation 
Is your client looking to get in on the streaming action? Services like Netflix, Amazon Prime and Disney Plus all come via the internet, meaning you'll need a strong fibre connection to get the shows up and running. We can offer next day delivery on a huge range of cable solutions, helping you get the job done and your client get their favourite shows started. 
You never know, you might even have time for an episode or two yourself when you get home. 
Methodology
The Google search volume for 42 different streaming services in every country was analysed to determine the most popular streaming services across the world.