How does heat recovery work?
Heat Recovery Units depend on two different forms of piping - one to supply fresh air from outside, and the other to extract heat from the air that is leaving. Once the air has passed through these two pipes, it is merged together before being filtered into a room through a series of vents or ducts. 
Heat Recovery Units can be used for either air or water, recycling the valuable components and reusing them in the most efficient way. 
What is a single room MVHR?
A single room mechanical ventilation with heat recovery, or single room MVHR, is designed to improve the air quality in the room it's positioned in. While traditional extraction systems pull in fresh air from outside, single room Heat Recovery Units reuse the heat from extracted air, creating a more consistent temperature inside and potentially providing cleaner, more filtered living conditions. 
What are the benefits of single room Heat Recovery Units?
Single room Heat Recovery Units reuse extracted heat, meaning nothing goes to waste and the indoor temperature doesn't rise and fall. Not only does this make a property more comfortable, it could also make it more efficient, saving homeowners money on their bills. 
With traditional extraction units, the fresh air that is pulled inside needs time to warm up. This relies on the thermostat instructing the boiler to produce more hot water, potentially activating any radiators or underfloor heating. 
With Heat Recovery Units, the air that comes inside is already warm, meaning less strain on central heating and lower energy bills at the end of the month. 
Because the extraction pipes taking the air out and the supply pipes keeping the heat in never cross, there's no risk of cross-contamination, meaning the air is also cleaner. Stale air never arrives inside, instead being warmed up before you even breathe it in.
Finally, Heat Recovery Units reduce our impact on the environment. As they depend less on gas or electrical heating systems, they lower carbon footprints and make use of warm air that already exists.  
Our range of single room heat recovery systems
Our range of heat recovery systems all come from the best name in the business - Blauberg. With a brand you can trust, you can guarantee a fantastic performance that leaves your clients clean and cosy, with an easy installation making your life simple. 
The Blauberg Komfort Ultra D105
This self-contained plug and play MVHR is ideal for small apartments, offices or toilets. Its slimline finish makes it fit seamlessly into any style, filling a small space with heated, fresh air at a rate of 106 m3/hour.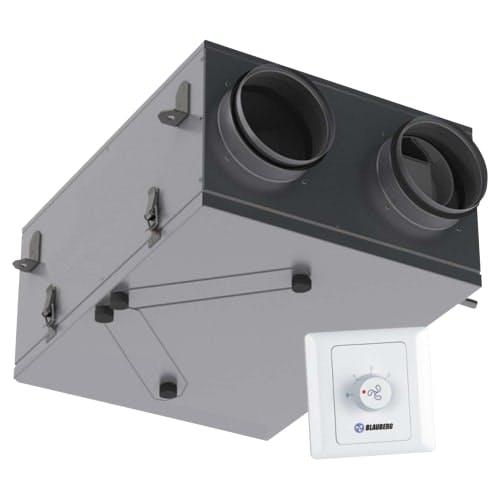 Order Blauberg Komfort Ultra D105
The Blauberg Vento Expert DUO Wi-Fi Single Room Energy & Heat Recovery Unit
A single room, wall-mounted option that can be linked with other units using WiFi, creating a fully incorporated air flow system with incredibly low running costs.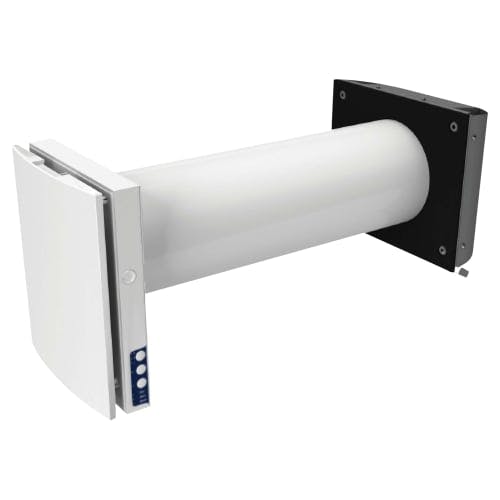 Order Blauberg Vento Expert DUO 
The Blauberg Vento Midi-Air Wi-Fi De-centralised Single Room Energy & Heat Recovery Unit
Perfect for bathrooms, kitchens, living rooms or bedrooms, this heat recovery unit comes in a matt white finish and offers excellent heat efficiency.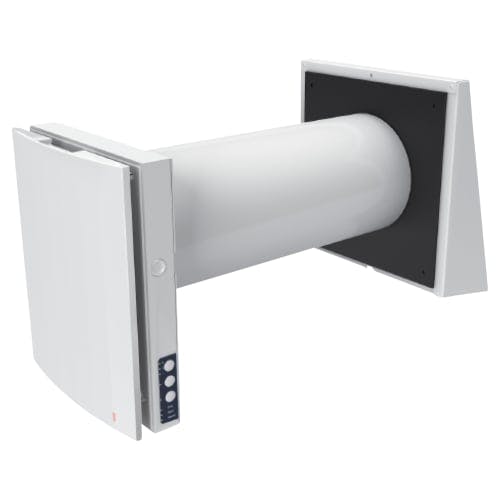 Order Blauberg Vento Midi-Air Wi-Fi De-centralised unit
The Blauberg Vento Mini-Air Wi-Fi De-centralised Single Room Energy & Heat Recovery Unit
You can control this heat recovery unit from your smartphone or tablet, allowing you to heat up or cool down a room before you enter it. It offers effective single room humidity, mould, condensation and Co2 control.