Smart Automation Projects
Giving a home the smart home treatment is much easier than it sounds and leaves customers pretty excited! With our easy to set up smart home automation systems, you can very quickly set up a house to run from a phone or smart assistant. Get the heating warmed up for when they step through the door, or help them to turn off anything they forgot to turn off. You can even set them up to check their energy usage and turn off wasteful electricity!
Check out our range of products from Hive, Google Nest and Lightwave
Interior Sockets and Switches 
Installing new sockets and switches is a small thing that can often make a world of difference. Adding some copper or antique brass can bring some warmth into the room, while chrome sockets and switches can bring a modern feel. Encourage your customers to stop hiding sockets behind furniture and make a statement!
Check out our range of products from Trendi, Hamilton and Knightsbridge
Interior Lighting
New or additional lighting can brighten up any room.  Our range covers everything from huge statement lighting that make their guests say "wow!", to vintage-styled bulbs that blend seamlessly into their surroundings. Plus, with top brands such as Globo, Forum, Altro and many more, you can be certain that you're installing top quality products.
Click here for over 140 cabinet lighting products 
Click here for over 130 ceiling lights
Click here for over 580 lamps and tubes
Bathroom Projects
Renovating bathrooms is a huge undertaking, and getting the right products with the correct protection is vital to your project. Getting out of a hot shower into a cold room is dreadful on a winter morning, so getting your customers the right mix of heat is key. Towel rails are brilliant for warming up a room and our underfloor heating offers added luxury at a low trade price. In addition, getting the right lighting is vital. With our range of IP rated bathroom lights, you can be certain to find the right style for your bathroom project.
That wraps up our guide to electrical products for home improvements. For more information about our electrical range, you can browse our collection online or speak to our customer service agents about your project.
Head over to IronmongeryDirect to complete the project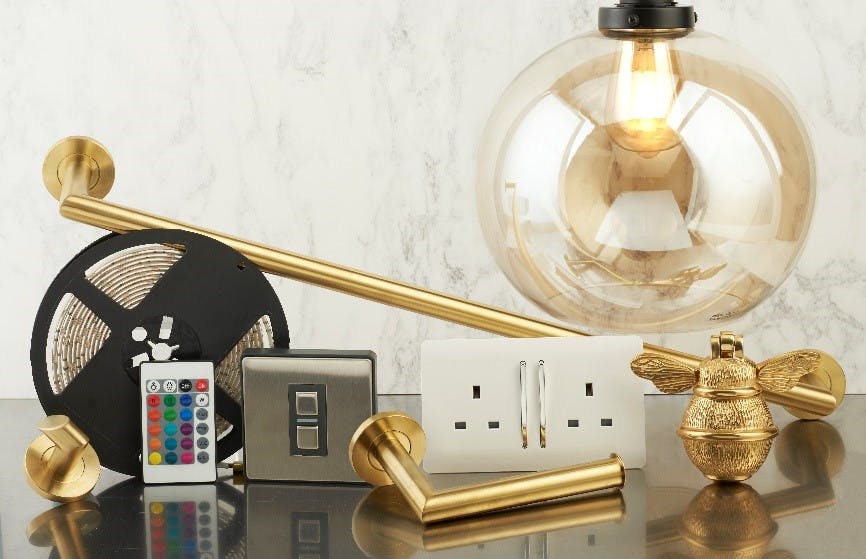 From front door furniture to space saving solutions, window makeovers and bathroom hardware, we also have a guide on getting the right ironmongery products for your domestic projects over on our sister site, IronmongeryDirect.