Electrical installations installed in a garden, including luminaires and their associated cables, should be securely fixed and protected against accidental damage and attack by rodents.
Surface-fixed cables should be fixed to permanent structures only and should be supported at sufficient height above the ground to avoid accidental contact with footwear and garden tools.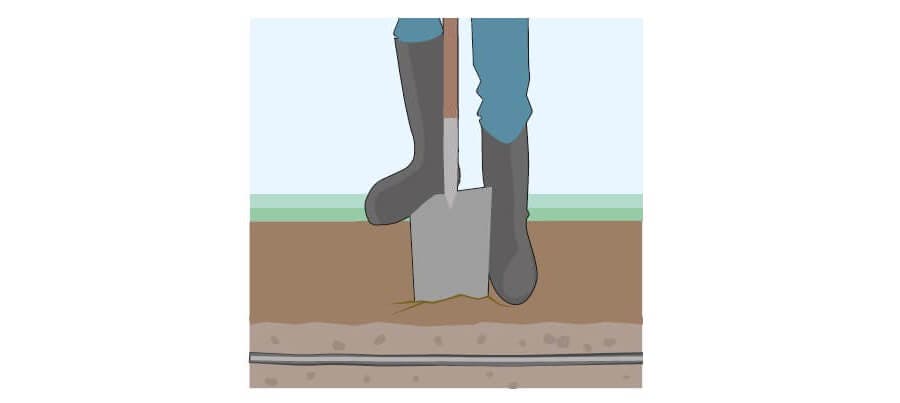 All equipment, including luminaires, must be designed for use outdoors and be installed in accordance with the manufacturer's instructions. The use of Class II equipment is conducive to electrical safety and is encouraged.
The risk of a fatal electric shock is increased when persons have good electrical contact with Earth.
To reduce the risks associated with the use of electricity socket-outlets must have additional protection in the form of a 30 mA RCD with a rated residual operating current not exceeding 30 mA in the event of failure of the provision for basic protection and/or the provision for fault protection or carelessness by users.
Buried cables
Where it is decided that cables will be buried in the ground, the cables should be routed such that they are not likely to be damaged by any foreseeable disturbance and should be buried at sufficient depth (normally taken as not less than 600 mm).
All buried cables should be marked by cable covers or marker tape as shown in Fig 1. Non-armoured buried cables should be installed in a conduit or suitable duct to provide protection against impact. Armoured cables and cables having an earthed metal sheath suitable for use as a protective conductor may be buried directly in the ground without further protection, except against corrosion, which may be negated by the provision of a plastic covering.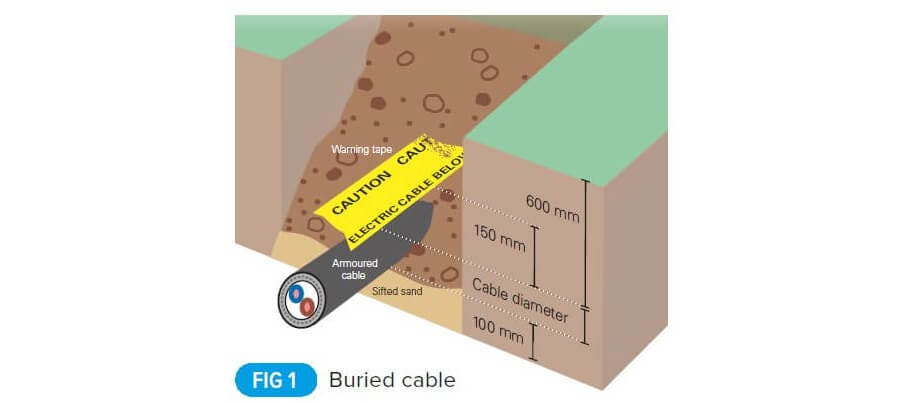 Surface fixed cables
Surface fixed cables may be fixed to permanent structures. Timber fencing is not considered to be suitable for supporting cables, for reasons which may include the following:
• Timber fencing is unlikely to be sufficiently rigid. • The life of timber fencing is likely to be less than that of the cable. • Damage sustained by the fence due to the high winds (may present a risk of electric shock).
Surface fixed cables should not be exposed to prolonged sunlight unless they are a suitable type.
Black thermoplastic (PVC) cable sheaths contain carbon black which resists the effects of sunlight.
White or grey cable sheaths are likely to deteriorate with prolonged exposure to the sun and should always be shielded.
Socket-outlets
Provided they are designed for outdoor use, 13 A socket-outlets to BS 1363 may be installed in a garden as a convenient way of connecting luminaires and other equipment. 13 A socket-outlets installed in a garden must either incorporate a 30 mA RCD or be supplied from a circuit provided with additional protection by a 30 mA RCD.
Whilst for household installations, only shuttered socket-outlets should be used industrial socket-outlets including plugs, connectors and appliance inlets complying with BS EN 60309-2 may be used in locations outside of the dwelling where appropriate.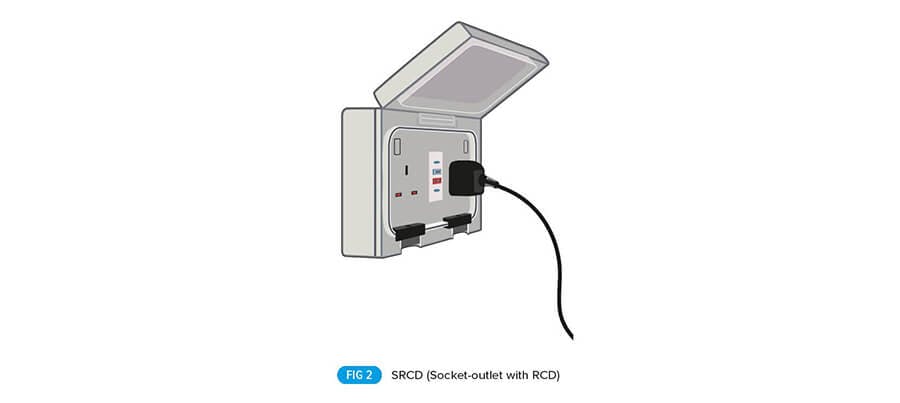 Ponds
Only special equipment and submersible cables designed for use in ponds should be used. Risk of damage to equipment and cables will be minimised by careful positioning and routing of cables.
Cables may need additional protection against accidental damage and attack by rodents.
All equipment located close to a pond should be protected against ingress of water and resistant to corrosion. Pond pumps should comply with BS EN 60335-2-41.
Pond lighting should comply with BS EN 60598-2-16. Other equipment for ponds should comply with BS EN 60335-2-55.
Electrical installations associated with large ponds, which could be used for bathing, should comply with the additional requirements for swimming pools. Section 702 of BS 7671 refers.
For more detail on installing electrical equipment outside of the dwelling, please refer to the NICEIC and ELECSA Site Guide.