With a rise in hybrid working, companies are looking for ways to make spaces more inviting for staff. To contrast the solo "work from home" routine, many businesses are changing their offices to be much more collaborative, moving towards open plan offices with lots of breakout rooms. This often means complete refits are in order. Moving desks, changing spaces, a lick of paint, and better lighting – all to make the environment nicer for staff.
Lighting
Getting the lighting levels right is vital! Not just from a health and safety standpoint, lighting can also have a huge impact on staff mood, and ElectricalDirect have a wide range of options.  Open plan offices should be light and airy. Bright daylight lights can open up the space.
Battens and lighting panels can bring lots of lighting and mirror or enhance natural light. In smaller breakout rooms, you can play with light levels to create different atmospheres.  Vintage lamps can create a nice chillout space. Smart lighting can add colour to a room to bring out the best in people's creativity.
Door Holders and Closers
Door holders and closers in offices are essential – from automatic door closers and electromagnetic door holders creating accessible thoroughfares, to fire door closers and concealed fire door closers for keeping doors closing smoothly and safely.
Click here for our range of door openers, holders & closers
Cable Management
Taming the jungle of wires in an office is no easy task. Getting the right cable management products is vital to any office space. Trunking will hide cables from view, improving the aesthetic of the décor and protecting them from damage, while our cable trays help route cables with easy access and heat protection.  Our range includes cable trunking from top brands such as D-Line, Univolt, Marshall Tufflex, Marco and Trench.
Emergency Exit Signs  
Keeping staff and visitors safe means ensuring an office is compliant with health & safety laws. Our selection of fire and emergency signs are all designed to comply with current regulations. It's important to keep commercial office well signposted, so browse our selection of clear and informative signage to see how you could make your customers business safer and HSE-compliant.
Click here for our range of emergency lighting
That wraps up our guide to electrical products for commercial office projects!  For more information about our electrical range, you can browse our collection online or speak to our customer service agents about your project.
Head over to IronmongeryDirect to complete the project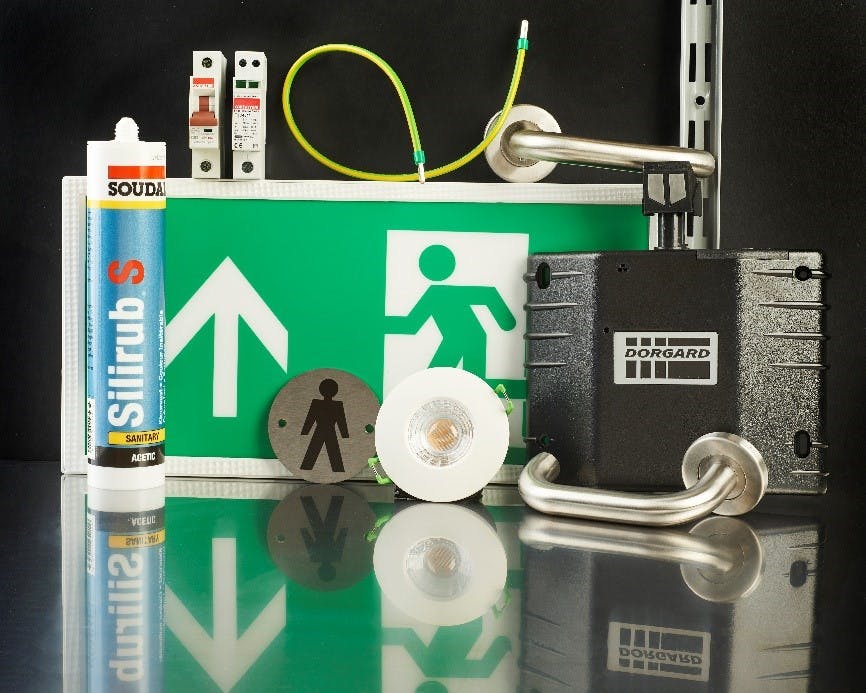 From fire door kits, to cubicle packs to shelving & storage solutions, we also have a guide on getting the right ironmongery products for your commercial project over on our sister site, IronmongeryDirect.